››
Astronomer Dr. Laura Danly on Soil Health
Astronomer Dr. Laura Danly on Soil Health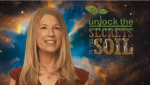 Dr. Laura Danly of California's Griffith Observatory is helping the U.S. Department of Agriculture promote its "healthy soils" campaign. So why is an astronomer talking about soil, rather than the sky?
"Studying Earth is just like studying the planets. Earth is a planet, and it's the most amazing planet we know. It's the only one we know that has life on it, so it's a natural for me to want to talk about Earth and share some important messages with people about how we can make Earth healthier," Danly says.
The post Astronomer Dr. Laura Danly on Soil Health appeared first on AgNet West - California Agriculture News.